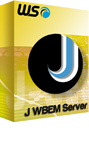 WS J WBEM Server 4.5
The WS J WBEM Server is a standards-based Commercial-Off-The-Shelf (COTS) management infrastructure that enables remote discovery and secure management of a system. The J WBEM Server is a pure JavaTM implementation. The J WBEM Server handles Web-Based Enterprise Management (WBEM) requests from WBEM Clients using CIM-XML and/or WS-Management. The J WBEM Server defines management information using the Common Information Model (CIM). The J WBEM Server includes all infrastructure and infrastructure Management Profiles needed to support Management Initiatives, such as CDM (Common Diagnostic Model), DASH (Desktop and Mobile Architecture for System Hardware), SMASH (Systems Management Architecture for Server Hardware) and SMI (Storage Management Initiative).
Benefits
Reliability- WS is the company that partners rely on - unlike many Open Source Projects that do not have reliable support or adequate resources WS is one stop shopping for all your standards-based management needs. WS is committed to providing our customers with enterprise ready standards-based software and services at a fraction of the cost of outsourcing overseas.

Expertise – Industry expertise in standards-based management is core to WS's ability to create value. WS has been developing standards-based management solutions since its inception. WS is heavily involved in standards organizations (i.e. DMTF, SNIA, JCP, The Open Group, …) and actively participates to develop new and improved specifications. WS can not only provide software solutions, technical training, support, architecture/design and professional services, but can also provide standards support such as direction, getting changes adopted quickly and working with a variety of organizations to reach consensus.

Technical Support – WS is dedicated to providing enterprise level technical support to aid our customers in making the best use of our products and services. WS technical support is provided by software engineers that are actively working on the products, in other words we provide support to engineers from engineers so that we can get you the information you need as quickly as possible. WS prides itself on providing the best support in the industry.

Software updates – WS releases software updates as needed. WS is a customer-oriented company. If a partner needs an enhancement or a fix, we will release a product to ensure that they achieve their goals/schedule. WS can only be as successful as its' customers and we pride ourselves on our customers success.
For additional benefits click here.
Features
Feature
Description
Security

Authentication – The J WBEM Server supports the Simple Identity management profile. Authentication can be local (accounts), third party (user contact) or custom.

Local authentication uses the built in jwbemserver security plugin and allows the creation of accounts (username, password, …). An account must exist before a user can be authenticated.
Third party uses the local system native security, such as Windows or PAM (for *nix platforms). A user contact must be configured with the appropriate user name before the user is authenticated (using third party)
Custom – an implementation can build a custom security plugin.

Authorization – The J WBEM Server supports the Role Based Authorization management profile. Users are assigned to Role(s) and Roles are assigned Privileges. Users are then only authorized access to the privileges for the Role(s) they are assigned.

Mutual Authentication – The J WBEM Server supports Mutual Authentication for both Client Protocols and Indications.

Provider Authentication – The J WBEM Server supports Provider Authentication by allowing only signed jar files to be loaded.

WBEM Server

The J WBEM Server supports the WBEM Server profile. The WBEM Server profile allows the management of the WBEM Server itself. The following features can be managed

Client Protocols (CIM-XML & WS-Management)

Capabilities
Enable/Disable
HTTPS/HTTP and ports
IP binding

Namespaces
WBEM Server

Indication Support
The J WBEM Server supports the DMTF and SNIA Indications Profiles over both CIM-XML and WS-Management.
FQL
The J WBEM Server supports the new DMTF Filter Query Language for client operations allowing clients to get only the information needed and not have to filter on the client.
Management Profiles
Industry Standards
WBEM Workshop
WBEM Workshop is a GUI tool that can be used to manage the J WBEM Server as well as browse the contents, review logs and execute operations to a local or remote WBEM Server. The following views are included:
CIM Browser
Viewing CIM Class and Instance information
J WBEM Server Configuration
Manage the local J WBEM Server configuration.
Log Viewer
View local J WBEM Server log files.
Record Log Profile
View dynamic log information from a WBEM Server that supports the DMTF Record Log Profile
Service Location Protocol
Discover WBEM Servers that advertise their management capabilities via SLP
WBEM Server Security
Manage WBEM Server Security (Authentication, Authorization, Roles, Privileges)
Job Control
Monitor Jobs
WBEM Indication
Subscribe and monitor Indications from a WBEM Server
WBEM Operations
Tool for locally or remotely performing WBEM Operations against a specified WBEM Server
Simplified Client & Provider
We have simplified both the provider and client interfaces to aid in speeding up development and time to market. See the latest javadoc.
Branding
The J WBEM Server allows the product to be "Branded" to your own company and/or product. This includes CIM Class names, product/company values, removing optional features and removing optional profiles.
I18N
The J WBEM Server can be localized. WS provides the messages in a single jar file.
Please contact sales for additional information including evaluations and pricing.